Nationality: Thai
Native language: Thai
Hometown: Bangkok, Thailand
Birthday: October 5th, 1992
Education: Silpakorn University (Thai major)
Sarawittaya school (Math-English program)
Work Experience:
Private Thai tutor, PickupThai
Thai teacher, Thai Language Hut school
Thai teacher, My Thai Language school
Years of Thai Teaching Experience: 2015-Present
Foreign Language Abilities: English (Fluent),
Chinese (Beginner)
Interview
Tell me about yourself.
Hello everyone, my name is Jane. I was born and raised in Bangkok, Thailand and I've been teaching Thai to foreigners since 2015. I first started teaching Thai as a tutor when I was in university, and I still love doing it.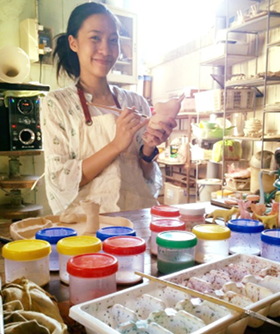 I think that's because even though it's a hard job and requires a lot of energy, it makes me feel like I'm giving something useful to others. When I'm not working I like to learn new things like ceramics, Chinese, or how to play the guitar. In addition to improving myself, I find that by doing so I sometimes unexpectedly find new ways of teaching while I'm learning. I also enjoy talking to people from other countries and learning about their cultures. I find that by learning about other cultures I expand my ability to get along with others.
How did you become a Thai teacher?
I prepared to become a teacher by graduating from university with a Bachelor of Arts in Thai. My studies included classes in linguistics, poetry, literature, academic writing, and Pali-Sanskrit. I enjoyed my studies because I have a deep interest in the Thai language. It has many interesting features which no other language in the world possesses. It's also changed a lot from the way it was spoken in the past.
I wanted to explain to people how it has changed over time, so I decided to become a full-time Thai teacher. My first job after graduation was teaching Thai to non-native speakers, which gave me the opportunity to teach many people to speak Thai. At first, I found it a little difficult to explain some of the grammatical structures and pronunciation, but over time I developed much more effective teaching methods and techniques. Now I find it much easier to help my students learn. But even so, I never stop learning and refining my teaching methods. My goal is to become the best teacher I possibly can and to make it as simple as possible for the student to learn. I'm truly devoted to teaching, and I expect to do it for the rest of my life.
Why do you like the Thai language?
There are a lot of features of the Thai language that I like. One thing I really enjoy is that it's easy to create endless jokes in Thai because of the tonal aspect of the language.
Because the same basic word sound can have up to five different meanings depending on the tone used to pronounce it, it's easy to come up with lots of funny sayings. Thai people are constantly coming up with new jokes based on this feature of the language. I also find the sound of the language itself very pleasing to hear. Thai poetry is especially beautiful because of the way it uses rhyming of consonants, vowels, and tones. Finally, I like Thai because of the many ways it gives us to express what we think and feel. One of the ways it does this is by providing us with numerous particles that are used to imply feelings and thoughts. Features like this may make you feel like you need a key to unlock what Thais are really saying when they speak. It's a lot of fun!
What levels do you teach?
I can teach any level from total beginners to advanced. I have taught students of all ages from 10-70 years old. I can also provide classes with a specific focus, such as pronunciation, conversation, writing, reading or culture.
What kind of a teacher are you?
I'm kind and open-minded. I'm always open to discuss anything you may have questions about, and I'm always interested to hear students' opinions. I'm also very patient. It doesn't matter if you're a fast learner, or you need more time, I'm going to help you until you're good at Thai. I'll explain whatever is confusing you, and give additional examples until you understand it. I always encourage my students to speak in Thai as much as they can, as I believe this helps you to learn the language. And since I'm a talkative person, our classes together will certainly not be quiet or boring! One other thing. Since it's important in Thai to communicate using appropriate and suitable language, that's one of my primary concerns in teaching.
What advice would you give to learners who want to start learning Thai?

First, learn Thai with a native teacher. This is especially important with Thai because you need a native speaker to correct your mistakes with tones and pronunciation, but it's also useful to learn correct grammatical structures and writing. With a native speaker you have the benefit of being able to copy the way they speak, something you won't get if you learn from a non-native speaker. Studying with a non-native speaker also will likely not teach you to speak natural-sounding Thai. Second, you should learn speaking and listening before writing and reading. From my experience, most students who start learning Thai by speaking learn much faster than those who start learning by writing. It's the same process as when children start learning languages. They listen to what their parents say and learn to speak by imitating them. Third, practice as much as you can. There is no short cut to become good at Thai except to keep practicing it. Do it bit by bit every day. Collect new words and practice using them and you'll be speaking Thai fluently before you know it.
Want to learn Thai with Mary Jane?