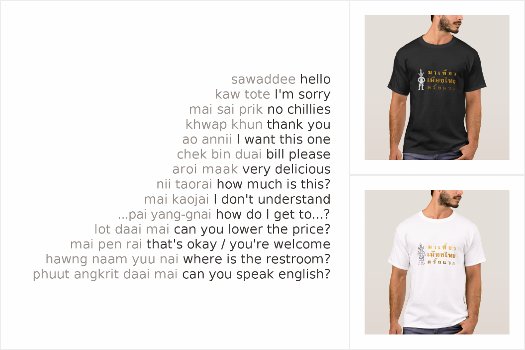 This collection features various cool and unique T-shirt designs that help you communicate with the local Thai people. One-of-a-kind gift for yourself or someone traveling to Thailand.

Featured Products
Click here to see all products from this collection.
Useful Thai Phrases for Tourists
T-shirt with the 14 most useful phrases for tourists traveling in Thailand; including "Hello," "Thank you," "No chillies," "Check please," "Where is the restroom?" and more! The phrases are written in transliteration and all come with the English translation next to them. This T-shirt was designed for your convenience by printing all the phrases upside down so that you can easily see them by simply looking down at your shirt. Plus, other people won't even notice you have a cheat sheet! With this shirt, there's no longer a need to carry a book in your hand all the time or to keep dragging your notes in and out your purse while trying to take photos and carry shopping bags around. Extremely handy for anyone going on a trip to Thailand. The right side of the shirt also features the first letter in the Thai alphabet, gaw gai, representing the Thai language. If you prefer a different letter you can remove it or change it to your favorite character. If you don't want the phrases to be upside down, you can use your cursor to turn the design right-side up during the customization process.
"I can speak (a little) Thai"
T-shirt imprinted with the message "I can speak (a little) Thai" written in Thai script. The first line says "I can speak Thai" written with a big font, while the second line says "a little," in parentheses with a small font. If your Thai isn't as good as you would like it to be, get this T-shirt and wear it on your trip to Thailand and you won't have to keep telling people that you speak Thai. People will automatically talk to you in Thai but they'll speak a little slower and not expect you to understand every word. This shirt will give you a chance to practice the language with local people while not having to worry about asking them to slow down.
"My first trip to Thailand"
T-shirt imprinted with the message "maa thiaw meuang Thai khrang raek" meaning "My first trip to Thailand" written in shades of gold and in a beautiful Thai font. Next to the message, there's a graphic of a smiling white Thai giant. Wear this shirt and let people know how excited you are seeing everything new for the first time. Even if it's not your first trip, who cares? Wear it anyway! People will treat you with extra warmth and hospitality and make sure you have great memories to take home. A perfect gift for someone planning on going to Thailand and for Thailand lovers.
"I like it spicy"
T-shirt with "I like it spicy," "I like it medium spicy," "I like it a little spicy"" and "I don't like it spicy" printed on it in Thai script and English with chilies next to each phrase. This shirt helps you express your preference for the level of spiciness you prefer, an important consideration when you order food in Thailand. Whether you're a fan of spicy food or not, with this T-shirt, you're guaranteed to get food made with just the right level of spiciness when you're out and about exploring Thai food in Thailand. A must-have T-shirt for anyone planning to go on a trip to Thailand, especially chili lovers who need that spice in their life, and those who can't handle a burning sensation in their mouth.
"I can speak Thai"
T-shirt with the message "I can speak Thai" imprinted in both Thai script and English. The English text is painted in the Thai flag colors, white, red and blue. Below that in Thai is the message "phuut paasaa Thai gap phom dai na" meaning "You can talk to me in Thai." If you speak Thai and want to practice your speaking skills with the local people, get this T-shirt and wear it on your trip to Thailand and you won't have to keep asking people to speak to you in Thai – this shirt will do the job for you. A must-have for your upcoming trip to Thailand or a perfect gift for a friend who speaks Thai.
Create your own product with our designs
Our designs are available in all kinds of different products. Click here to see all products featured in our collection. If you don't find a product you're looking for, simply create your own product with our design using the "Transfer design" feature. Click here to learn more.
Find PickupThai's lessons helpful? Feel free to check out our self-developed Thai learning materials "
PickupThai Podcast
," humor-filled audio lessons based on fun stories that teach you to speak natural-sounding Thai the super fun way unlike any textbook. Learn REAL Thai with us and never sound like a foreigner again. Available for all levels. Try
free samples
now!