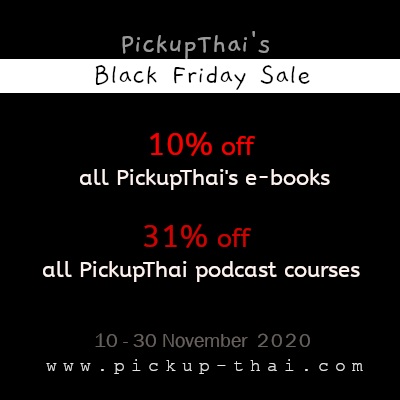 Black Friday Sale (10-30 November 2020):

1. Buy any PickupThai Podcast course within November 30th, get 31% off full price.
1.1) Creamy Coconut (beginner course) Price: 2,970 THB Now only 2049 THB
1.2) Sweet Green (intermediate course) Price: 4,768 THB Now only 3,290 THB
1.3) Spicy Red (advanced course) Price: 5,728 THB Now only 3953 THB

2. Buy any PickupThai e-book within November 30th, get 10% off full price.
2.1) 365 Must-Know Thai Phrases for Everyday Conversation
Price: 895 THB Now only 805 THB
2.2) The Unforgettable Day of Forgetful Tamago
Price: 249 THB Now only 224 THB

Click the button below to place your orders.
Find PickupThai's lessons helpful? Feel free to check out our self-developed Thai learning materials "
PickupThai Podcast
," humor-filled audio lessons based on fun stories that teach you to speak natural-sounding Thai the super fun way unlike any textbook. Learn REAL Thai with us and never sound like a foreigner again. Available for all levels. Try
free samples
now!